Patients depend on you. You can depend on us.
In the hands of the anesthesiologist, life hangs in the balance. Whether in the OR, ER, or perioperative environment, the patient depends on you, and the surgical team relies on your expertise to keep the patient stable. In such routinely critical situations, you need equipment you can count on that delivers the highest functionality and reliability. We understand. Our equipment is designed for superior performance under stress so you can be best prepared for the unpredictable moments that can arise when your patient is under anesthesia.
60–70%
incidence of hypothermia during major surgeries involving high-risk patients1
The Vital Nature of Normothermia
The effects of hypothermia have been well documented. Intraoperative hypothermia can increase cardiac morbidity, blood loss, infection risk, procedure time, and length of stay. Specifically, inadvertent perioperative hypothermia has been shown to increase hospital length of stay by 20-65% and increase risk for transfusion.2,3 Even minor hypothermia delays post-anesthetic recovery.4 Maintaining normothermia reduces time to extubation, facilitating fast-tracking patients.5,6
How We Help
Precision Patient Temperature Management
Helping you keep your patients stable even during long surgical procedures, Allon® lets you maintain patient temperature in real time, on a graphical display. Allon, in combination with the flexible and versatile ThermoWrap® garment, effectively warms patients throughout the entire perioperative continuum.
Safe, Effective, and Bubble-free Rapid Fluid Resuscitation
Maintaining intraoperative normothermia, preventing core hypothermia, and maintaining hemodynamics are top of mind when performing fluid volume resuscitation. The Belmont® Rapid Infuser RI-2 provides you with a simple, safe, and effective solution for warm fluid delivery, from routine to massive transfusion situations. 
At Belmont, our job is to facilitate yours. As you continuously assess and monitor patient vitals, the RI-2 tracks and displays fluid infusion information so you can act fast. Through the touchscreen display, you can watch real-time infusate outflow temperature, line pressure, and total infused volume. Our Rapid Infuser detects and removes air bubbles before they reach the patient line, automatically, so you can focus on caring for the patient.
Common Applications for Use of Rapid Infusers
Blood loss due to trauma and surgery
Liver transplantation surgery
Vascular surgery
Complicated obstetrical cases
Aneurysm repairs
Testimonials
"As clinician in charge of anesthesia supplies, I saw the need for a faster and less labor intensive method for rapid and massive transfusion. The device is simple and reliable."
— Anesthesiologist, Major Long Island Medical Center
Peace of Mind in Fluid Delivery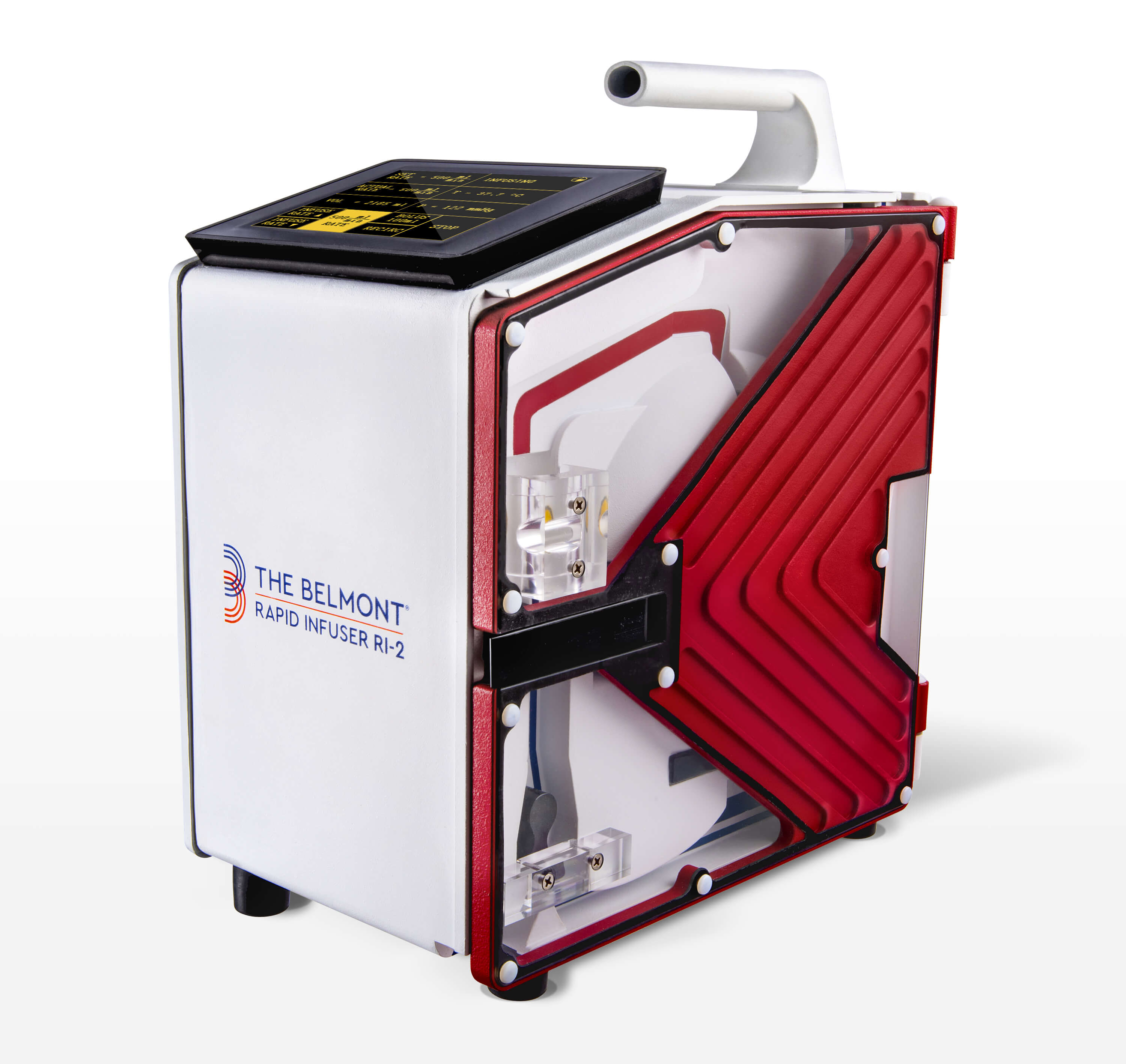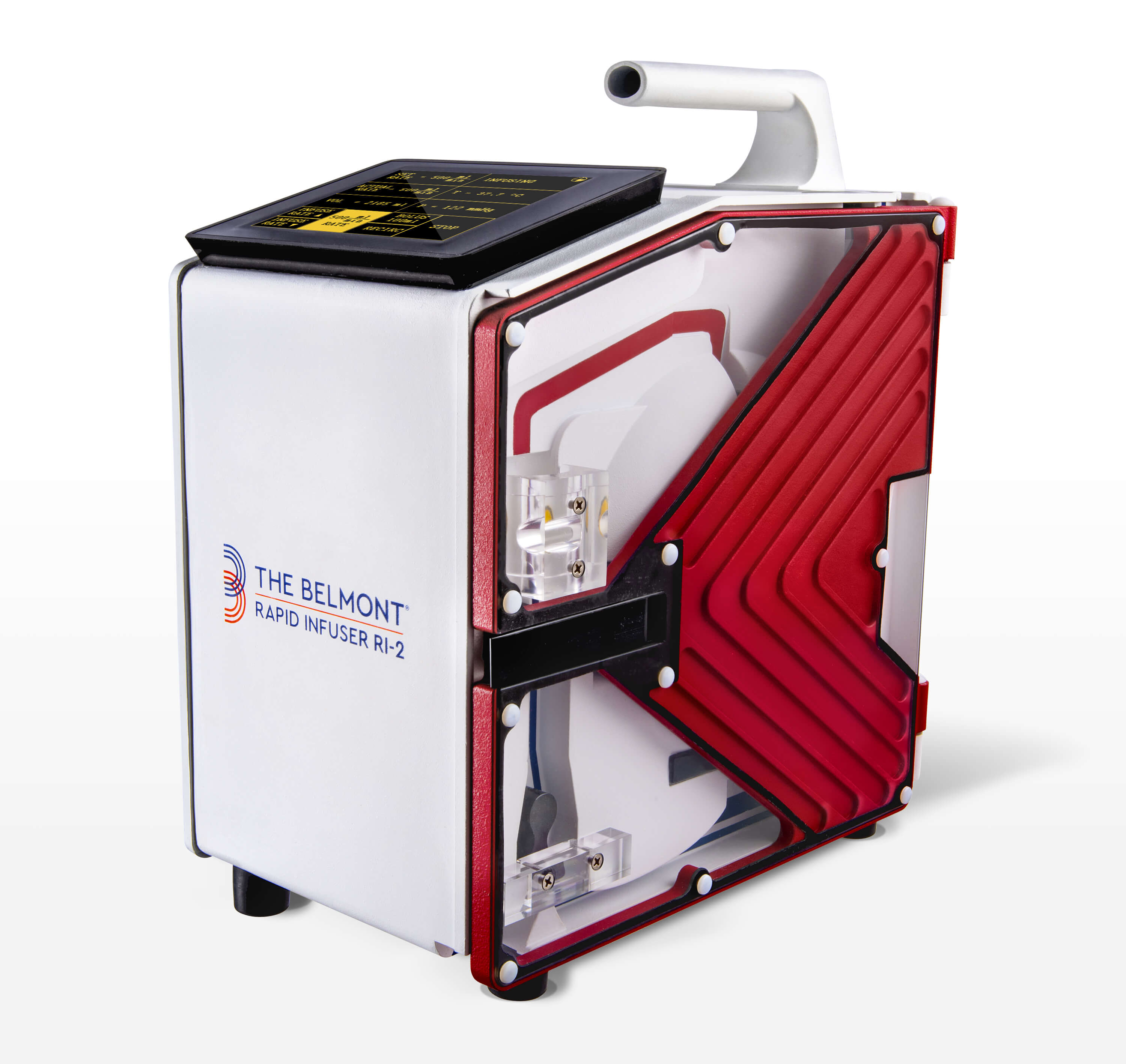 The Belmont® Rapid Infuser RI-2
Remain focused on the patient during fluid resuscitation–not the device. The Belmont® Rapid Infuser RI-2 delivers exceptional outcomes by providing the highest level of patient safety and performance.
Highly efficient fluid warming using dry, electromagnetic induction
Exceptional air detection and removal
Real-time display of flow rate, total volume infused, line pressure, and fluid temperature
Automatic priming and effortless re-priming

Automatic line pressure monitoring
Learn More
Customer Testimonial: The Belmont® Rapid Infuser RI-2
Learn how The Belmont® Rapid Infuser RI-2 earns the trust of clinicians worldwide from the voice of a leading cardiothoracic anesthesiologist.
Advanced Patient Warming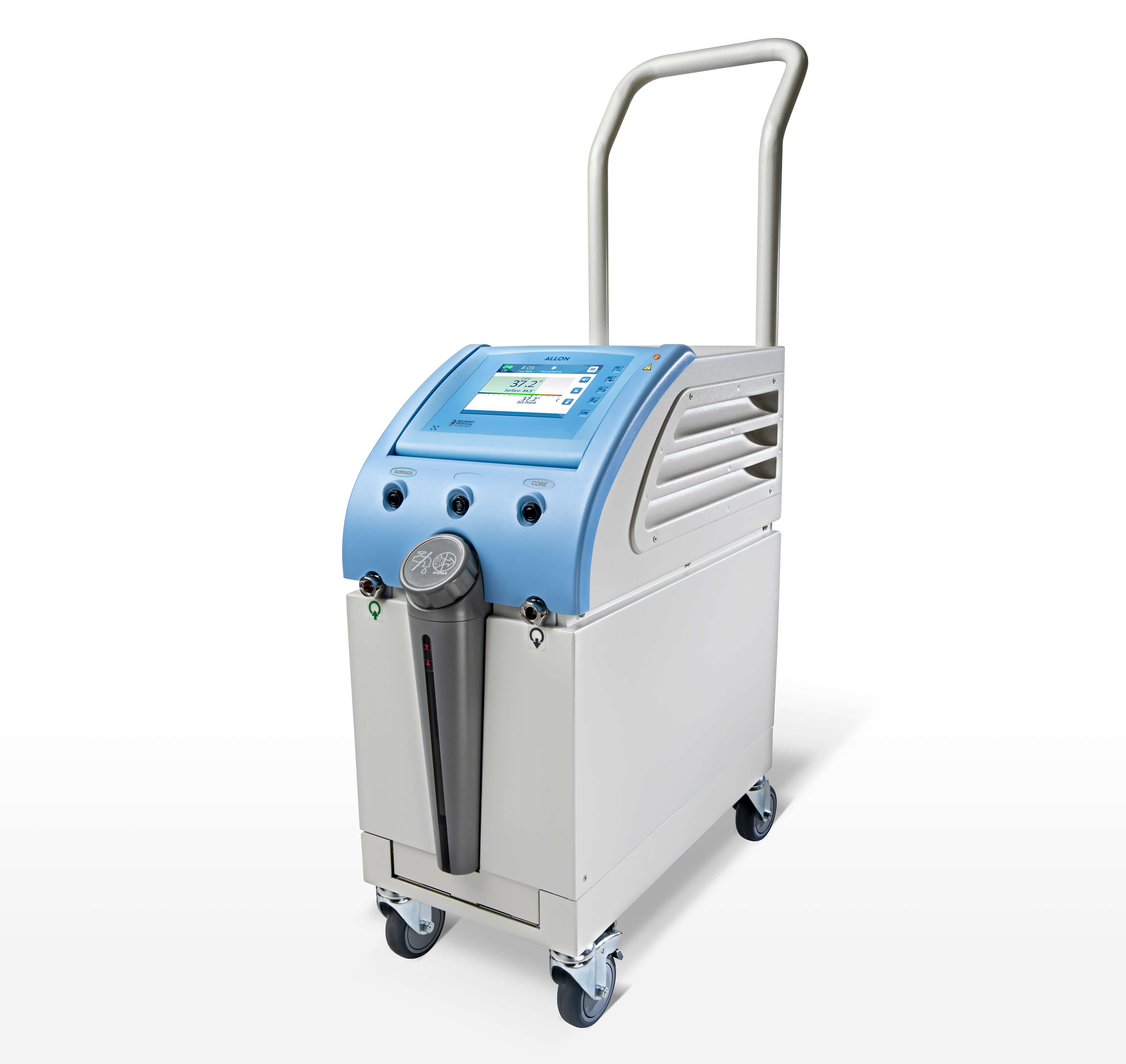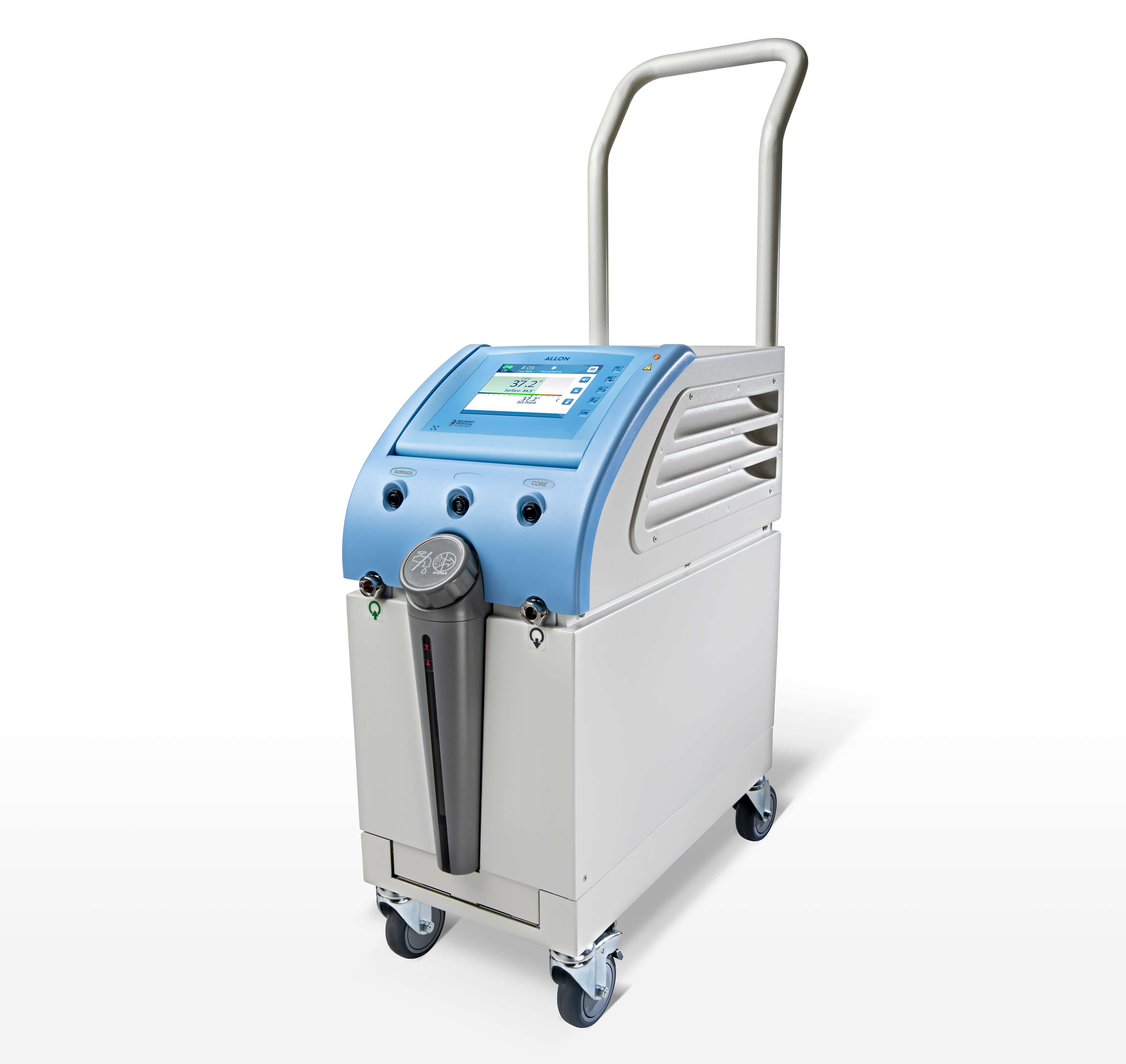 Allon® with ThermoWrap<sup>®</sup>
Cardiac centers can rely on Allon® to predictably maintain temperature during surgical procedures with the versatile ThermoWrap® garment.
Algorithm-driven temperature maintenance every 133

milliseconds

Monitoring and display of patient core and surface temperature

Multiple wrap configurations and sizes
Learn More
Product Overview: Allon® Temperature Management System
Leslie, Kate, et al. Perioperative hypothermia in the high-risk surgical patient. Best Practice & Research Clinical Anaesthesiology. December 2003;17(4):485–498.
Klauke N, Gräff I, Fleischer A, et al. Effects of prehospital hypothermia on transfusion requirements and outcomes: a retrospective observatory trial. BMJ Open. 2016;6:e009913. doi: 10.1136/bmjopen-2015-009913
Leaper D, Kumar S, Bettles N. Maintaining normothermia during surgery. 2010. http://www.hospital-int.net/article/maintaining-normothermia-during-surgery.html. Accessed July 10, 2013.
Lenhart R. The Effect of anesthesia on body temperature control. Frontiers in Bioscience S2. June 1, 2010;1145–1154. https://www.bioscience.org/2010/v2s/af/123/fulltext.htm
Rohrer B, Penick E, Zahedi F, et al. Comparison of forced-air and water circulating warming for prevention of hypothermia during transcatheter aortic valve replacement. PLoS one. 2017;12(6):e0178600.
Nesher N, Uretzky G, Insler S, Nataf P, Frolkis I, Pineau E, ... Weinbroum AA. Thermo-wrap technology preserves normothermia better than routine thermal care in patients undergoing off-pump coronary artery bypass and is associated with lower immune response and lesser myocardial damage. Jnl of Thoracic and Cardiovascular Surgery. 2005;129(6):1371–1378. doi:10.1016/j.jtcvs.2004.08.021